Spotify Ads are no longer just audio. With clickable photos and CTA replacing cover art, listeners have easy access to your website, app or Spotify Page.
Tell Your Story On Spotify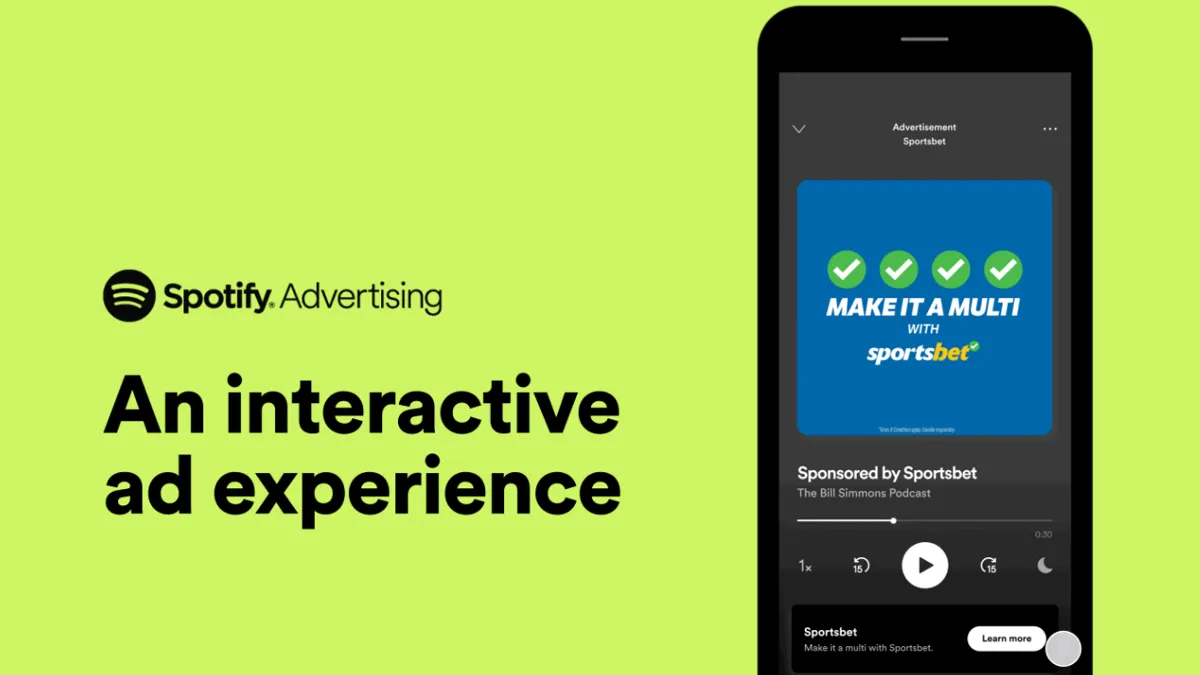 Be heard in the moment.
Millions of people soundtrack their moments with Spotify — using music and podcasts to relax, to commute, to work out, to party and everything in between. All of this listening fuels our Streaming Intelligence: first-party Spotify ad data that reveals contextual mindsets, habits, and tastes in the moment.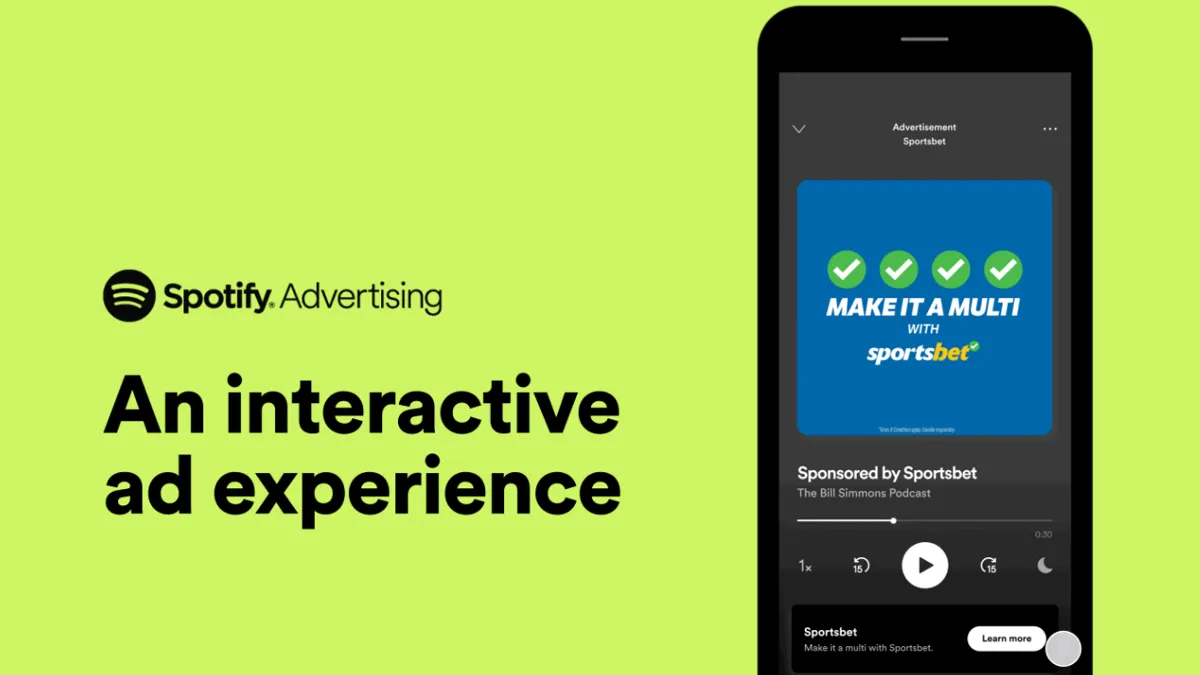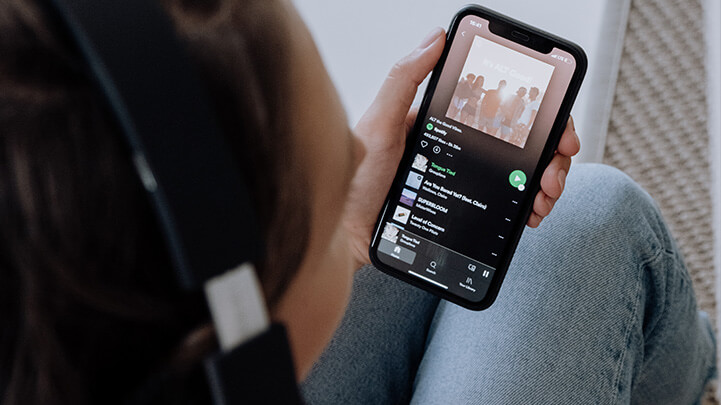 140 Million Monthly Active Users.
In the last 5 years, Spotify has increased their monthly active users from 15 million to 140 million (with a 40 million increase in the last year alone). While there are 80 million premium customers that aren't served Spotify ads because they pay for the service, this leaves a market of 80 million ears to deliver your message to.
Your audience streams Spotify to soundtrack their lives — to get hyped, to calm down, to focus, to work out, to party and everything in between. We believe music is a mirror, reflecting how people. are really feeling and how they're doing in any given moment.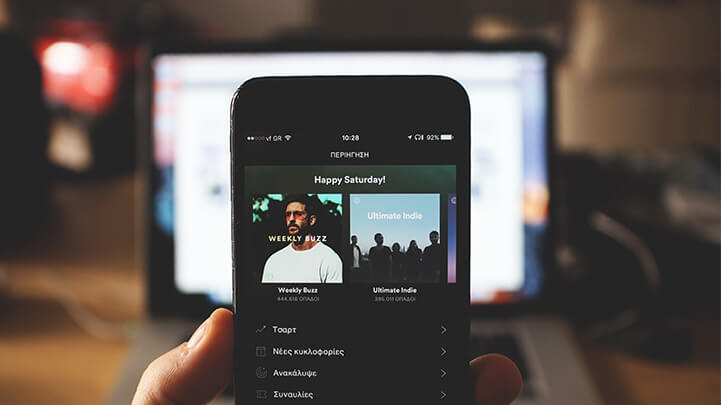 Ear Time is Limitless.
In other words, people listen to music to make doing other things better. It puts them in a better mood and enhances whatever task they have their sights set on achieving. This could be working out, grocery shopping, studying, or writing a blog (yes, I'm rockin' out to some Spotify right now).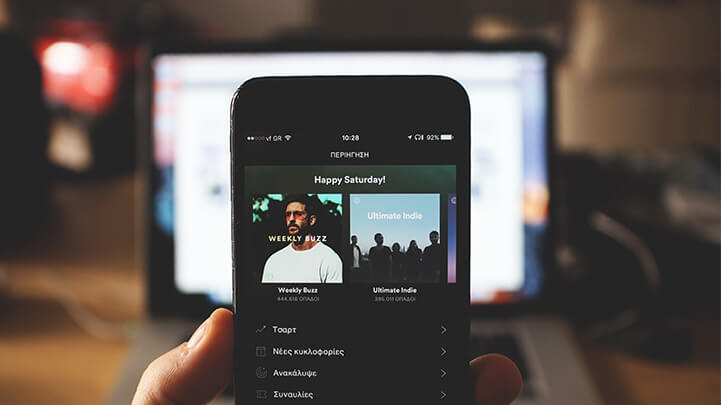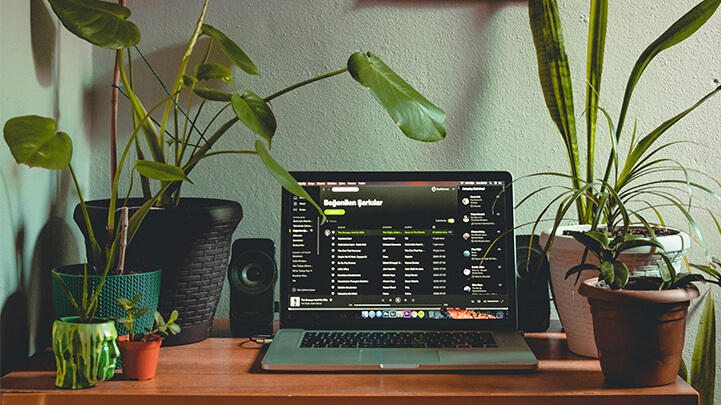 Changes in Consumer Behavior.
People change. Sometimes it's for the better and this is one of those times. People are generally getting used to advertisements on streaming devices. They've accepted the ads on YouTube before the video. They now expect messages to be sponsored by a brand and don't feel as though Spotify ads takes away from their overall experience.
Tap Into Streaming Intelligence To Drive Impact For Your Brand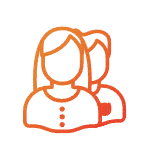 Engaged Audience

Reach your audience on Spotify in real-time contextual moments — multi-device users stream for 2.5 hours a day.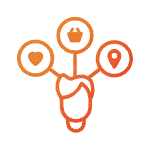 Unique Insights
Our Spotify Ad dataset offers a contextual understanding of your audience, giving you deeper insight into their tastes.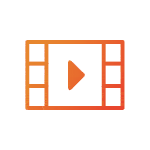 Impactful Ad Formats
Bring your brand to life with captivating audio, video and display ad formats on Spotify.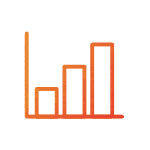 Measurable Success
Our suite of measurement products for Spotify Ads can help you quantify the true impact of your messaging.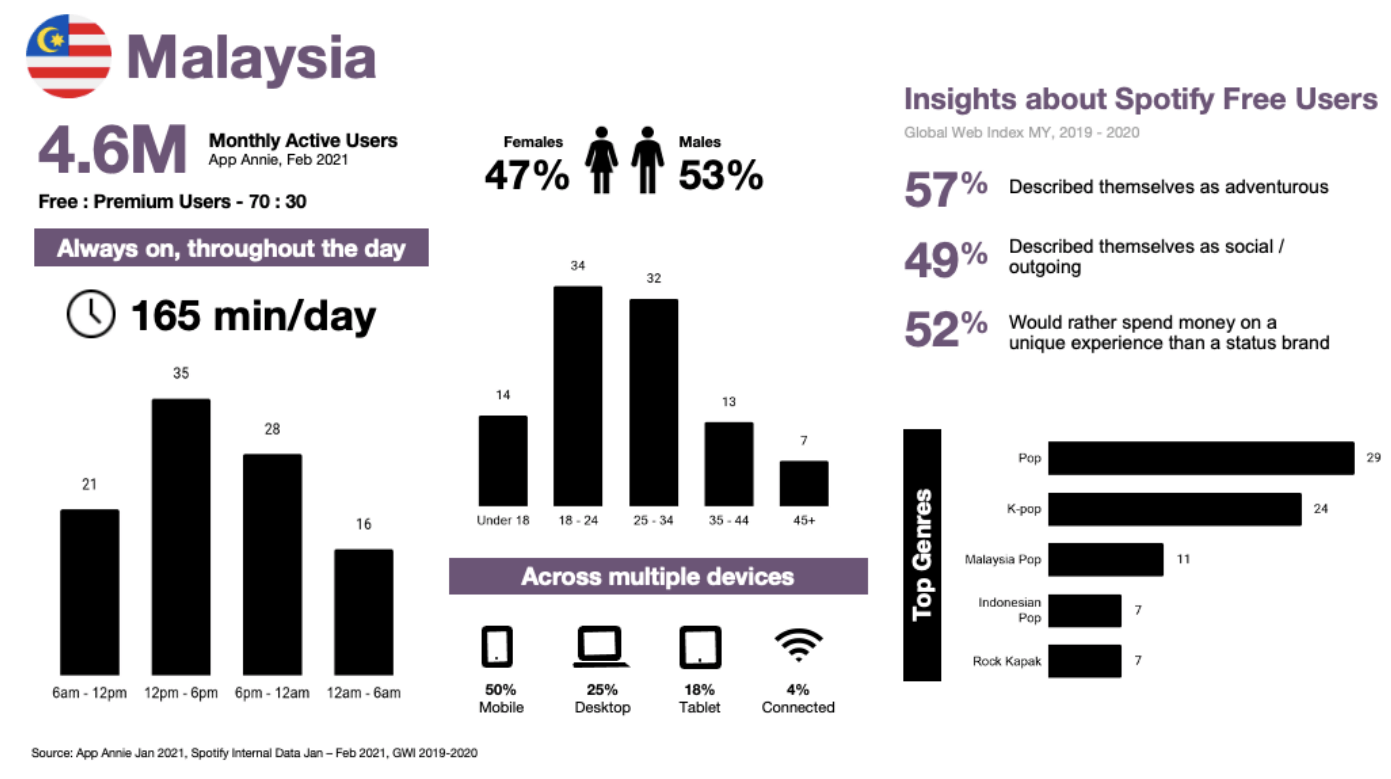 Audience Opportunity for Spotify Ads
Malay

58%

58%

Chinese

31%

31%

Indian

10%

10%

Others

1%

1%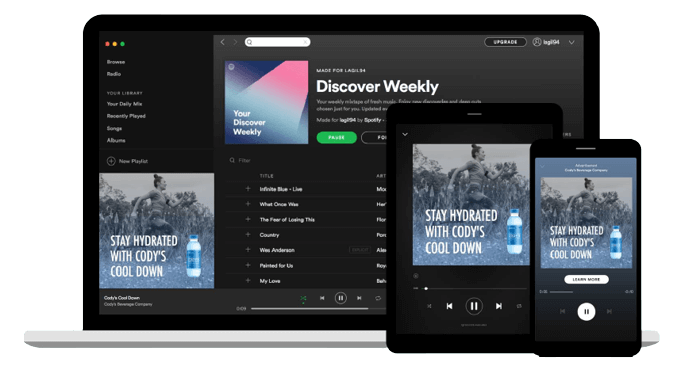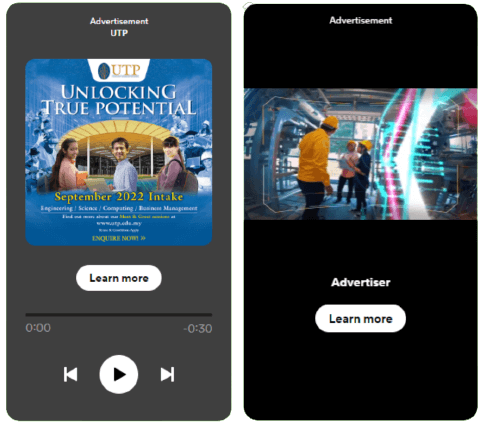 Our Audio Everywhere Audio Spotify ads are served between songs during active sessions, ensuring your brand achieves 100% SOV.
Your brand also takes ownership of a clickable companion display unit (in the Cover Art area), letting you extend your campaign and drive traffic to a URL destination.
Example: UTP (Audio + Video)
UTP's Audio Everywhere Spotify Ad allowed them to reach target audiences on any device, in any environment, during any moment of the day
Using Video Takeover, UTP's video message is also served to listeners between songs during Spotify ad breaks, and includes a clickable companion display unit for campaign extension.
keyboard_arrow_leftPrevious
Nextkeyboard_arrow_right